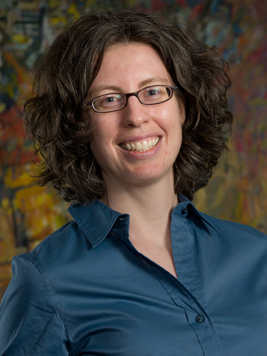 Associate Professor, Developmental Psychology, Director of Psychological Science Training & Honors Program Director
Thursday: 2:00pm-4:00pm in-person or By Appointment
(virtual meetings available)

Professional Summary
Dr. Daniels joined the UCCS Psychology Department in 2014. She was previously an Assistant Professor at Oregon State University Cascades and a Visiting Assistant Professor at the University of Oregon, Central Oregon Programs. Her research primarily examines body image pressures commonly experienced by girls and women. Most recently, her work has expanded to address systemic barriers to women's involvement in STEM and Social and Behavioral Sciences (SBS). Specifically, Dr. Daniels is a co-PI on a National Science Foundation (NSF) grant, called Project CREST, aimed at supporting women-identified and minoritized faculty in STEM and SBS fields at UCCS. Her research has been featured in national and international media, e.g., the New York Times, The Washington Post, Los Angeles Times, Time, Telegraph, and Daily Mail. Dr. Daniels serves as the Director of the MA in Psychological Science Program and the Director of the Undergraduate Honors Program.
*The Director of Psychological Science Training is responsible for all aspects of the Psychological Science MA track including recruitment and admissions, curriculum, professional development, and assessment.
Education
Postdoctoral Fellow, University of California, Los Angeles
Ph.D. Developmental Psychology, University of California Santa Cruz
M.S. Developmental Psychology, University of California Santa Cruz
B.A. Psychology, Georgetown University
Areas of Interest
Body Image, Media, Sports and Physical Activities, Gender, Adolescent Development, Positive Youth Development
Teaching
Dr. Daniels teaches a range of courses in developmental science and gender issues including Lifespan Development, Child Development, Adolescent Development, Social Development, and Psychology of Gender.
Courses
PSY 3550 - Psychology of Women
PSY 3620 - Developmental Psychology
PSY 4620 - Seminar in Developmental Psychology
PSY 6100 - Developmental Psychology
Book
Daniels, E. A., Gillen, M. M., & Markey, C. H. (Eds.). (2018). Body positive: Understanding and improving body image in science and practice. Cambridge University Press.
Recent Representative Journal Articles
Daniels, E. A., Jerald, M. C., & **Dieker, J. (2022). Sexualization on a dating app: What do viewers think of sexualized White men? Sex Roles. Advance online. https://doi.org/10.1007/s11199-022-01278-1
Daniels, E. A., Jerald, M. C., & Ward, L. M. (2022). The woman in the (rearview) mirror: Viewers' attitudes toward objectified car selfies of Black and White women. Psychology of Popular Media, 11(2), 217-226. https://doi.org/10.1037/ppm0000363
Markey, C. H., & Daniels, E. A. (2022) Preadolescent girls' social media use and body image: Type of engagement may matter most. Body Image, 42, 145-149. https://doi.org/10.1016/j.bodyim.2022.05.005
**Dieker, J. L., **Renn, B. N., & Daniels, E. A. (2022). Self-objectification: Implications for physical activity in middle-aged women and men. Psychology, Health & Medicine. Advance online. https://doi.org/10.1080/13548506.2022.2073377
Daniels, E. A., & Linder, J. R. (2021). Sex object vs. athlete: Boys' and men's responses toward sexualized male athletes. Sex Roles, 85(9-10), 528-541. https://doi.org/10.1007/s11199-021-01228-3
Daniels, E. A., & Robnett, R. (2021). The STEM pipeline: Do media and self-objectification create an early exit for middle school girls? Journal of Early Adolescence, 41(7), 1099-1124. https://doi.org/10.1177/0272431620983442
Daniels, E. A., **Hood, A. J., LaVoi, N. M., & Cooky, C. (2021). Sexualized and athletic: The effects of viewing sexualized performance images of female athletes on viewers' attitudes. Sex Roles, 84(1-2), 112-124. https://doi.org/10.1007/s11199-020-01152-y
Daniels, E. A., Zurbriggen, E. L., & Ward, L. M. (2020). Becoming an object: A review of self-objectification in girls. Body Image, 33, 278-299. https://doi.org/10.1016/j.bodyim.2020.02.016
Daniels, E. A. (2020). Does objectification on social media cost young men? Emerging Adulthood, 8(3), 226-236. https://doi.org/10.1177/2167696818804051
Linder, J. R., & Daniels, E. A. (2018). Sexy vs. sporty: The effects of viewing sexualized images of athletes on self-objectification in men and women. Sex Roles, 78(1-2), 27–39. https://doi.org/10.1007/s11199-017-0774-7
** = graduate student co-author
Representative Service & Leadership Roles
UCCS Psychology Honors Program Director, 2021-Present
UCCS Psychology Director of Psychological Science, 2019-Present
UCCS Chair of the Faculty Assembly Women's Committee, 2016-2020
Editorial Board for Body Image, 2022-present
Editorial Board for Emerging Adulthood, 2016-present
Associate Editor for Sex Roles: A Journal of Research, 2012-2015
Contributing Editor for Psychology of Women Quarterly, 2012-2015