Charles C. Benight, Ph.D.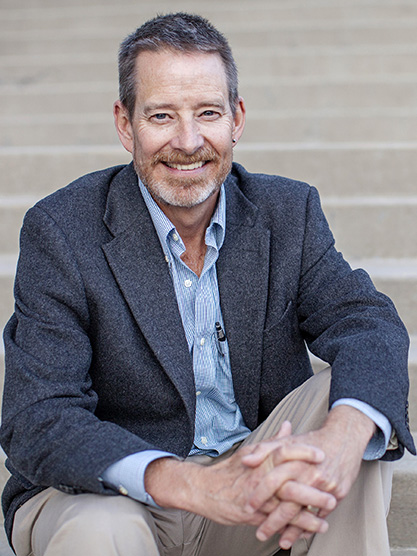 Charles C. Benight, Ph.D.
Professor, Executive Director of the Lyda Hill Institute of Human Resilience
Lyda Hill Institute for Human Resilience
Professional Summary
Professor Charles C. Benight joined University of Colorado at Colorado Springs from University of Miami where he completed his postdoctoral training in behavioral medicine. Dr. Benight earned his Ph.D. in Counseling Psychology from Stanford University with an emphasis in Health Psychology/Behavioral Medicine in June 1992. He earned his Masters Degree in Counseling in 1986 and his Bachelors in Business Management from Arizona State University in 1983. Dr. Benight teaches graduate and undergraduate courses in Clinical Psychology, Health Psychology, Trauma Psychology and was the Director of Clinical Training for the Clinical Masters Program from 1996-2004. In 2000, Dr. Benight founded the Trauma, Health & Hazards Center, a cross-disciplinary center focused on extreme human events. From 2015 to 2017, Dr. Benight was the UCCS Psychology Department Director of Clinical Training & Trauma Clinical Ph.D. Program. He is currently the Executive Director of the Lyda Hill Institute for Human Resilience.
Dr. Benight's primary area of research interest is in the human adaptation from trauma. Over the past 18 years he has focused research on recovery from natural disasters, man-made disasters, motor vehicle accident trauma, sexual abuse, domestic violence, and bereavement. Using social cognitive theory he has identified key resilience factors that influence successful recovery. More recently, Dr. Benight has focused on the development of web-based interventions to empower trauma survivors as well as research on secondary trauma and burnout in military mental health providers. He served as an Associate Editor for the Journal of Traumatic Stress from 2003-2007. He is a reviewer for several primary journals in health and trauma psychology including: Health Psychology, Psychosomatic Medicine, Annals of Behavioral Medicine, Journal of Traumatic Stress, Journal of Applied Personality and Social Psychology, Psychological Reviews, Brain Behavior and Immunity, International Journal of Behavioral Medicine. He is on the editorial board for Anxiety, Stress, and Coping: An International Journal. He has been funded through the National Institute for Mental Health, the National Science Foundation, and the Department of Defense.
Education
Ph.D. Counseling Psychology with an emphasis in Health Psychology/Behavioral Medicine, Stanford University, 1992
Master of Counseling, Arizona State University, 1986
BSBA Management, Arizona State University, 1983
Areas of Interest
Human adaptation from trauma, recovery from natural disasters, man-made disasters, motor vehicle accident trauma, sexual abuse, domestic violence, and bereavement
Courses
PSY 4060 - Seminar in Health Psychology
PSY 4280 - Seminar in Abnormal Psychology
PSY 6160 - Trauma Psychology
PSY 6170 - Trauma Psychology II
PSY 6720 - Ethics and Practice Standards: Professional Development I
PSY 6740 - Clinical Practicum (Wellness Center)
PSY 6920 - Psychotherapy
Professional Experience
UCCS Trauma, Health & Hazards Center Director (2000 - 2020)
NATIONAL INSTITUTE FOR HUMAN RESILIENCE, Director (2020 - Present)
Publications
Benight, C.C. (2005). Clinical implications of coping self-efficacy in early interventions for trauma. Guidance and Counseling, 21, 6-12.
Benight, C.C., Harding-Taylor, A., Midboe, & Durham, R. (2005). Psychometric Validation of a Domestic Violence Coping Self-Efficacy Measure. Journal of Traumatic Stress, 17, 505-508.
Benight, C.C., (2004). Collective efficacy following a series of natural disasters. Anxiety, Stress and Coping, 17, 401-420.
Benight, C.C., Harper, M., Lowery, M., Sanger, J., & Laudenslager, M. (2004). Immunological and Neuroendocrine Implications of Repression Following a Series of Natural Disasters. Psychology and Health, 19, 337-352.
Benight, C.C. & Bandura, A. (2004). Social cognitive theory of posttraumatic recovery: The role of perceived self-efficacy. Behavior Research and Therapy, 42, 1129-1148.
Benight, C. C., Yamazaki, G., Gilfillian-Morton, L. A., Kawasaki, D. M., Martinez, L., Lynch, W. L., Morton, M. L., & Coolidge, F. L. (2002). Personality Dysfunction and the Management of Chronic Medical Illness: A community health sample. Clinical Psychology in Medical Settings, 9, 77-95.
Benight, C. C & Harper, M. (2002). Coping self-efficacy as a mediator for distress following multiple natural disasters. Journal of Traumatic Stress, 15, 177-186.
Benight, C. C., Flores, J., & Tashiro, T. (2001). Bereavement coping self-efficacy in cancer widows. Death Studies, 25, 97-125.
Benight, C.C., Ironson, G., Klebe, K., Carver, C., Wynings, C., Greenwood, D., Burnett, K., Baum, A., & Schneiderman, N. (l999). Conservation of resources and coping self-efficacy predicting distress following a natural disaster: A causal model analysis where the environment meets the mind. Anxiety, Stress and Coping, 12, 107-126.
Benight, C. C. Freyaldenhoven, R, Hughes, J., Ruiz, J. M., Zoesche, T. A., & Lovallo, W. (2000). Coping self-efficacy and psychological distress following the Oklahoma City Bombing: A longitudinal analysis. Journal of Applied Social Psychology, 30, 1331-1344.
Benight, C. C., Ironson, G., & Durham, R. (1999). Psychometric properties of a hurricane coping self-efficacy measure. Journal of Traumatic Stress, 12, 379-386
Honors & Awards
University of Colorado Presidential Teaching Scholar, 2013
UCCS Million Dollar Club (Research Funding)
Outstanding Teaching Award for the College of Letters, Arts and Sciences 1999
Outstanding Research Award, UCCS Campus, 2010
Licensure
Psychologist, State of Colorado