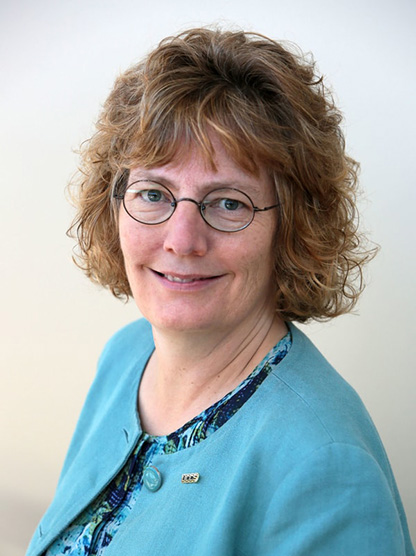 Professor, Quantitative Psychology & Undergraduate Honors Program Director
Tuesday: 12:00pm-1:00pm
Thursday: 2:00pm-3:30pm
Professional Summary
Dr. Kelli Klebe is a quantitative psychologist who was trained at the University of Minnesota (Ph.D. in 1990). She teaches undergraduate and graduate courses in statistics and research methodology. Dr. Klebe was Dean of the UCCS Graduate School from 2012-2023.
Dr. Klebe is currently the Undergraduate Honors Program Director.
Areas of Interest
Program evaluation; statistical methods for the analysis of change; best practices for teaching statistics and research methods.
Education
B.A, 1982, Social Work San Francisco State University

Ph.D., 1990, Psychology, University of Minnesota
Recent Courses Taught
PSY 1100 - Professions of Psychology

PSY 2100 - Introduction to Psychological Statistics

PSY 5840 - Methods for the Analysis of Change
Teaching
Methods for statistical analysis, measurement, and research design
Honors & Awards
Outstanding Teaching Award for the College of Letters, Arts and Sciences, 2003
Representative & Recent Service / Leadership Roles
UCCS Psychology Department Chairperson, 2008-2011
UCCS Graduate School Dean, 2012-2023
UCCS Interim Provost and Executive Vice Chancellor for Academic Affairs 2021-2022
Professional Experience
Program evaluator for multiple agencies for over 25 years. Over $4.5 million in external funded projects. Higher education administrator experience for over 10 years.
Representative Publications
Pepin, R.

, Segal, D. L., Klebe, K. J., Coolidge, F. L., Krakowiak, K. M., & Bartels, S. J. (2015). The Barriers to Mental Health Services Scale Revised: Psychometric analysis among older adults. Mental Health & Prevention, 3, 178-184.

Qualls, S. H., Klebe, K. J., Berryman, K., Williams, A., Phillips, L., Layton, H., Hiroto, K., Stephens, M., & Rogers, M. (2014). Cognitive Impairment Response Model: Motivational and Cognitive Pathways to Medical Help-Seeking for Alzheimer's Disease. Journals of Gerontology, Series B: Psychological Sciences and Social Sciences, doi:10.1093/geronb/gbu058

Feliciano, L. Horning, S. M., Klebe, K.J., Anderson, S. L., Cornwell, R. E., & Davis, H. P. (2013). Utility of the SLUMS as a cognitive screening tool among a nonveteran sample of older adults. American Journal of Geriatric Psychiatry, 21, 623-630.

O'Keefe, M. L., Klebe, K. J., Metzner, J., Dvoskin, J., Fellner, J., & Stucker, A. (2013). Impact of isolation on psychological well-being: A longitudinal study

. Journal of the American Academy of Psychiatry and the Law, 41, 49-60.
Honors & Awards
UCCS Million Dollar Club 2008

Faculty Assembly Service Award 2006

Outstanding Teaching Award for the College of Letters, Arts and Sciences, 2003